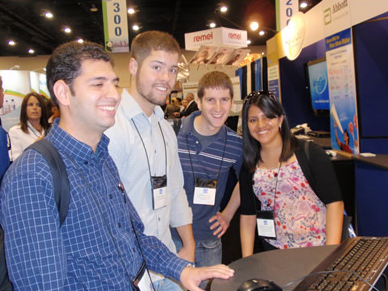 We understand that tradeshows can be integral in moving your company forward by spreading the word about your product or service and helping to educate the intended audience of all its benefits and features. Our team of professionals will help manage all the logistics of your tradeshow, from individual events to an entire schedule cycle. We will provide you with a complete and trackable budget, helping ensure that costs are controlled and every step is managed with precision.
Full Service
We can support your show 100% by providing onsite staff and management, from load-in to breakdown. We work to recruit the most effective and efficient people for your tradeshow including full booth assembly and getting the perfect Brand Ambassadors to represent your products and services.
Logistical Support Only
We can coordinate all the logistics of your tradeshow, ensuring that everything is ready for your team the moment they arrive. Your booth will be assembled with all equipment installed, setting your team up for a great show. Once the event has concluded, we can have everything disassembled, packed, and shipped to your next show or storage facility.
Travel Arrangements
Our staff is well aware of the complexities of a tradeshow schedule and life on the road. We can book your hotel rooms, reception halls, or any additional meeting spaces you may require to ensure that your presentation is a success. Should you need a special place for a private dinner with your sales team or clients, we can accommodate that as well.
KOL Special Functions
Your Key Opinion Leaders can be the backbone of a successful tradeshow experience. We can recruit your high-value customers to attend special functions, and our team can coordinate all aspects of the function whether it be a breakfast, luncheon, dinner, or any other event.